Ask iAN – For What it's Wirth
In Los Angeles
in a parking lot i sit in an obscure car
I look at those Palm trees..those tiny redextrious light
blood headed flowers..there is a crow bending
on the wind and celestial sonic women asking me for zippo fire

There are birds in yellow and Ocean dressed girls..the sounds of strawberries sugar cutting down the Sun blessed pavements...There is Poetry waterfalling down some stairwell..
There are dogs with blue eyes leading their sun-drenched summer kissed babes
Handsome blokes in smart garb
There is no blood on the walls...
I see flowers that even my Mother could not help me Name...
I smell the Ocean
only a few blocks away
and as fresca as a fine woman granting you touch
to her skin
Happiness for sale...on every corner
rich design, ice cold mountain photos, slush bars and cool tropical drinks...
Heaven pounds in the heart like the pulse rate of a sleeping baby rabbit
as kittens and parrots mind the day away unaware of the falling shade...
These perfumed streets..this sunlight getaway...this glittering silver sunlit sidewalk
as the Ocean laughs over my shoulder...
These obscure trees
These free hours
Healthy smiles in the galleries like neptune tablatures and orchids...
This Holiday in the land of the Stars...
Those timeless palm trees...with the music of far away countries in their sway...
and all I can see
is my friend
back in Kansas
with a needle in his Arm
a bottle of bullshit vodka on it's side
him and his blue oxygenless face
sitting indian style
code blue
code black
his feet feeling no strike from a cheap blue bic pen
half naked
put on ice
and
burned
in
an
Oven
of so many other
Nameless.
I love you Stu*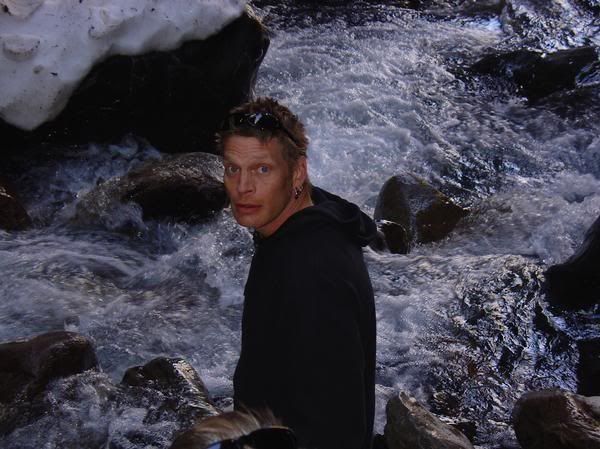 http://www.youtube.com/watch?v=O2J_Qkt5aho