ASK iAN * J.D. born June 9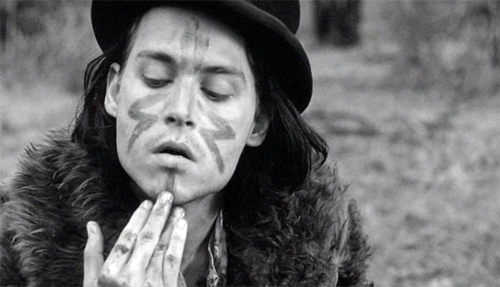 To Cathy =  All the best - hope all is well.  Johnny Depp
My Mother still has this Viper Room autographed napkin framed.  What i liked most about this memory is when Mr. Depp asked if my Mom spelled her name with a "C" or a "K".  He also took the time to jot down something more than just chicken scratch n' scribble...and to me that is style.
I also remember the one armed homeless old black man on Fairfax, who said that Johnny had always been kind to him...and that a greeting on the sidewalk from John was often accompanied by a 50 dollar bill...and a genuine smile.
He is also the closest thing we have to Lon Chaney, the man of a 1000 faces....which tickles mah bones.
His work with the likes of John Waters, Hunter S. Thompson, Tim Burton, Polanski, Jim Jarmusch just to name a few has always proved that he is a man of true vision...and when you can count Mr. Marlon Brando as a close friend...sheeit fella...that's all she wrote.
Mr. Depp has a big soul when it comes to kids...and towards all walks of life....he is simply an outstanding cat and i always look forward to his work.
He has always kept it fresh and at the same time...kept himself authentic....I admire the work he did for the West Memphis Free (3) and i have always admired his own admiration for books and great writers...he's a wise old soul.
I can't say too 'nuff good about him...and i don't give a hang who he is dating...or anything personal of his from the past or the present...i am just thankful that i lived in the same age so i could feel and witness his fine craftsman ship...Thank You.

Happy Birthday Mr. Depp....Good Health & Good Love to you...and bless yer heart* and yer great fucking sense of humor, sir*
http://www.youtube.com/watch?v=xHcmUoXgQdQ
http://www.youtube.com/watch?v=K3xsBVWp1Cs