Ask iAN * Make your own fucking breakfast man, I am a CREATOR*
¬†¬†'ÄėWomen may be made from man, but no man can be made without a woman'Äô
Blessed Hildegard of Bingen (German: Hildegard von Bingen; Latin: Hildegardis Bingensis) (1098 'Äď 17 September 1179), also known as Saint Hildegard, and Sibyl of the Rhine, was a writer, composer, philosopher, Christian mystic, German Benedictine abbess, visionary, and polymath.¬† Elected a magistra by her fellow nuns in 1136, she founded the monasteries of Rupertsberg in 1150 and Eibingen in 1165. One of her works as a composer, the Ordo Virtutum, is an early example of liturgical drama.
She wrote theological, botanical and medicinal texts, as well as letters, liturgical songs, poems, and arguably the oldest surviving morality play, while supervising brilliant miniature Illuminations.
Rosetta Tharpe (March 20, 1915 'Äď October 9, 1973) was a pioneering gospel singer, songwriter and recording artist who attained great popularity in the 1930s and 1940s with a unique mixture of spiritual lyrics and early rock and roll accompaniment. She became the first great recording star of gospel music in the late 1930s and also became known as the "original soul sister" of recorded music.
Willing to cross the line between sacred and secular by performing her inspirational music of 'light' in the 'darkness' of the nightclubs and concert halls with big bands behind her, her witty, idiosyncratic style also left a lasting mark on more conventional gospel artists, such as Ira Tucker, Sr., of the Dixie Hummingbirds. While she offended some conservative churchgoers with her forays into the world of pop music, she never left gospel music.
The Murmaids were a one-hit wonder all-female vocal trio composed of sisters Carol and Terry Fischer; and Sally Gordon from Los Angeles, California who, in January 1964 reached #3 with "Popsicles and Icicles".  ( A Really Extra Fuckun' Dreamy lil' Tune)*
 
Jennifer Herrema (born Feb 29th, 1972 in Washington, D.C.) is an American rock music singer, song writer, record producer, artist, designer and model best known for her work as one half of the influential rock band Royal Trux ( Check out the Cats & Dogs Lp)
Diamanda Gal√°s (born August 29, 1955) is an American avant-garde composer, vocalist, pianist, organist, performance artist and painter.
Galás has been described as "capable of the most unnerving vocal terror", with her three and a half octave vocal range.  She often screams, hisses and growls. Her works largely concentrate on the topics of AIDS, mental illness, despair, injustice, condemnation, and loss of dignity. She has worked with many avant-garde composers, including Iannis Xenakis, Vinko Globokar and John Zorn.
Buffy Sainte-Marie, OC (born February 20, 1941) is a Canadian Cree singer-songwriter, musician, composer, visual artist, educator, pacifist, and social activist. Throughout her career in all of these areas, her work has focused on issues of Indigenous peoples of the Americas. Her singing and writing repertoire includes subjects of love, war, religion, and mysticism. She recorded one country album, I'm Gonna Be a Country Girl Again, in Nashville, and her Academy Award-winning "Up Where We Belong" is considered "pure pop".  ( Check out a song called Codeine)
She founded the Cradleboard Teaching Project, an educational curriculum devoted to better understanding Native Americans. She has won recognition and many awards and honours for both her music and her work in education and social activism.
Karen J. Dalton (born Karen J. Cariker) (July 19, 1937 'Äď March 19, 1993) was an American folk blues singer and banjo player associated with the early 1960s Greenwich Village folk music scene, particularly with Fred Neil and the Holy Modal Rounders as well as Bob Dylan.¬†¬†
Dalton, whose heritage was Cherokee, was born Karen J. Cariker in Enid, Oklahoma.   Her bluesy, world-weary voice is often compared to that of jazz singer Billie Holiday. She sang blues, folk, country, pop, Motown -- making over each song in her own style. She played the twelve string guitar and a long neck banjo.
In his 2004 autobiography,  Bob Dylan wrote this in his description of discovering and joining the music scene at Greenwich Village's Cafe Wha? after arriving in New York City in 1961: "My favorite singer in the place was Karen Dalton. Karen had a voice like Billie Holiday and played guitar like Jimmy Reed... I sang with her a couple of times."  ( Ask iAN's Favorite Female Singer of ALL Time*)
Betty Davis (née Betty Mabry) (born July 26, 1945) is an American funk, rock and soul singer. She was also Miles Davis's second wife ( A voice that will make your Asshole rumble and make you feel juicy down the front of your pants and may even cause ribaldry moaning attacks, causing the balls, labia, earlobes and toes to twinkle*)
Natalie Valentine - Amazing fuckun' Voice & Style - Sings with the band FEVER out of Portland, Ore
www.facebook.com/feverpdx
http://youtu.be/OcGFmteg6M4
 
Fran√ßoise Madeleine Hardy (pronounced [f Ā…ĎŐÉ.swaňźz a Ā.di]; born 17 January 1944) is a French singer, actress and astrologer. Hardy is an iconic figure in fashion, music and style.¬† ¬†She is married to the singer and movie actor Jacques Dutronc.
 
Charlotte Lucy Gainsbourg (born 21 July 1971) is an Anglo-French actress and singer-songwriter. After releasing an album with her father at the age of fifteen, more than twenty years passed before she released two albums as an adult (5:55 and IRM) to commercial and critical success. Gainsbourg has also appeared in many films, including several directed by Lars von Trier, and has received both a César Award and the Cannes Film Festival Best Actress Award. She is the daughter of English actress Jane Birkin and French singer-songwriter Serge Gainsbourg.
Patsy Cline (September 8, 1932 'Äď March 5, 1963)
Lydia Des Dolles - Singer for Sweet Jane - Dublin Ireland - ( Check out " You're Making This Hard" ) it made my tits Swoon*
 
Jennifer P. Fraser - Played w/ The Warlocks, Now with ZAZA ( One of my favorite Poets, let's hope she puts a book out some day.... .*)
 
Miss Aimee' Nash - The Motherfucking BLACK RYDER*  Buy the Album and Take the Ride*
 
Sasha Kaleidoscopia Vallely - Spindrift

Singer/Keyboardist · February 2010 to present
Generate Entertainment with Kathy Cook

Rainspell with Riley Bray

The Silver Chords 

August 2010 to present

www.facebook.com/thesilverchords www.myspace.com/silverchords
 
 
 
Liela Moss ( THE DUKE SPIRIT) - vocals, harmonica, piano, auxiliary percussion (What a great foto opp for me, shux*)  Be sure to Check out her bands latest release BRUISER.  (Oooph*)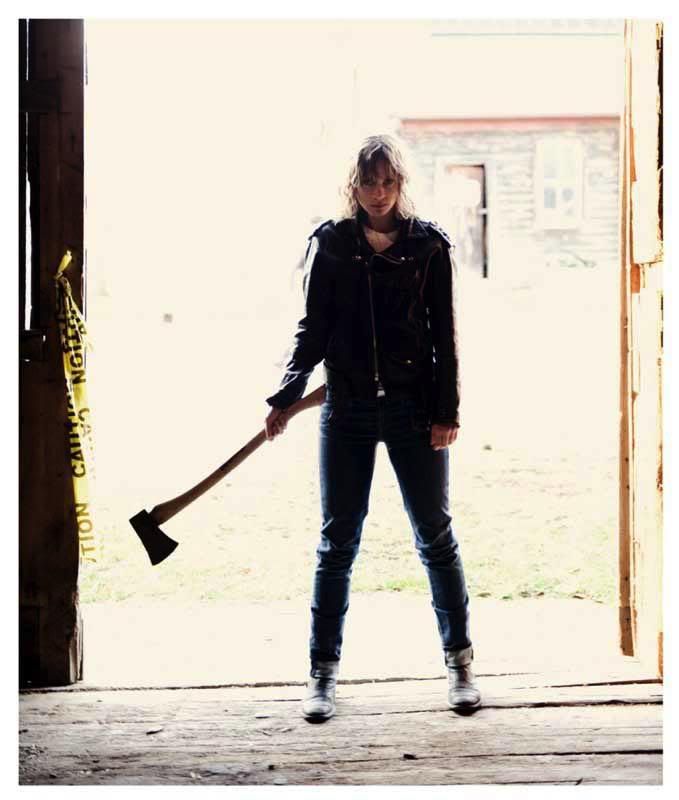 Leah Shapiro - She's that one girl who wouldn't be my girlfriend or i guess better known as a mad brilliant drummer, writer, singer, rider and daughter of the Peace...drummer for our favorite band...B.R.M.C*
My Mama Cathy or better known as Calamity Cate for singing her ass off to Iggy Pop's NO FUN and can fuckun croon big time to Ain't No Easy Way.... .*   Love ya Ma*
This list is in no order...there is no order.... .*
Yes, I adore P.J. Harvey and Sinéad Marie Bernadette O'Connor, Bessie Smith, Nina Simone and Billie Holiday, Marlene Dietrich, Justine Frischmann (Elastica), Wendy O. Williams, The Voluptuous Horror of Karen Black, Karen Carpenter, Poison Ivy of The Cramps, The Runaways, Sharin Foo (The Raveonettes) and just a fuckun' slack jaw'd slew of others that my fingers are too bloody to type and post right now.
Smart Women are good for the Soul*
bless yer hearts and Ta*
iAN
http://www.youtube.com/watch?v=xhtG5YrQ-lY