Great Music Saves Lives
Affected Me?
or
did you mean
inflicted
afflicted or
infected?
Without music i wouldn't be writing these words...I would be
Dead.
Dead as dead can be.
Robert Been once said of BRMC that it's not only a way of life
but a medical condition
as well.
I thought that summed it up fairly well...
Music is something 99% of people agree on that we NEED.
Beethoven was deaf as a wooden stove but he still HEARD Music in his head.
The great thing about music is that you don't need speakers after you've heard it.
You just need a functioning brain and the stereo is up in your head...just always make sure you are
playing the right records up
there.
Great Music Saves Lives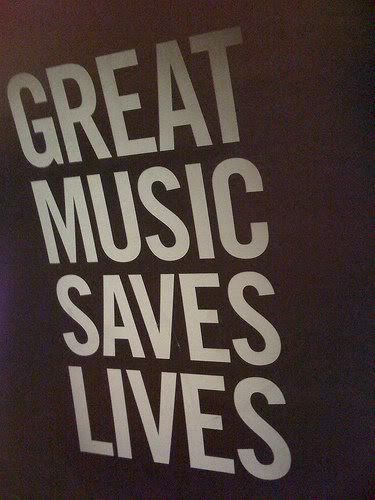 It doesn't matter if you listen to it or write it...it is the fastest angel on your side...
Music has stuck with me longer than dedicated friends and lovers...Great music
is Blood
is Family
is Soul
is water for the spirit
& medicine for the heart.
Music for me has been been a resting area off the highway of misery
Music licks my wounds like a dog to a knife cut
Music has spoken to me when friends wouldn't
it protects your heart when it is bleeding...it sings the song of YOU
it is a blanket and a lullabye
it is the fire that can blow up a whole country
Indians always knew the score...while the whites killed nature
Indians sang about the beauty of birds, the beauty of being alone beneath the stars
and connection...like a guitar to an amplifier... .
Music is the black hair you can get lost in and cry in like some dark hideaway cave far from the mad crowd...
Music is your truest lover, forever...I have been listening to music since the age of 3 and it will
sing me into the grave and i will follow.....
Music has no prison
music has the right kind of bars
yes...until the end....
just remember one thing
You
my friend
are a truly unique
and individual
song yourself
I believe William Blake wrote something on that....
You are a fine fine fine song indeed...
Who needs a radio
when you can sing your
own life
Remain a true song....
now what will you sing?
Let the music flow like water in a stream...
Those who get lost in music
have no
time for
war.
drink up.
iAN
http://www.youtube.com/watch?v=LsNqijXq8z8