Mido – Tour Manager/Sound Engineer
Black Rebel Motorcycle Club
Interview
O2 Academy, Manchester
Life on the road and behind the scenes – Francois El-Alfy (Mido), Tour Manager & Sound Engineer with Black Rebel Motorcycle Club talks with Nigel Carr from Louder Than War about his work with the band, Brexit and his secret hobby! All photographs are by David Gleave.
Black Rebel Motorcycle Club are in the middle of a European which began in Dublin on the 23rd October and ends on the 3rd of December in Vienna. With 12 crew members in tow, each one with a specific job to do, life can get tough for the Tour Manager. Organising budgets, flights, hotels and of course the band themselves is a job in itself, then he has to ensure that event goes like clockwork.
It all starts early in the morning when the crew arrives by tour bus at the venue. BRMC travel with more than seven tons of equipment which must be meticulously set up onstage! There's the drum & bass technician whose sole job it is to set up the drum kit centre stage and tune the bass guitars so they are ready to play. The guitar technician carefully tunes the band's guitars; there are up to ten non-standard tunings in a set and he lines them all up in a rack beside the stage for the gig.
The stage even has its own Sound Engineer just to make sure that the band hear what they need to on through the monitors. Then there is the Front of House Sound Engineer for the venue which in this case is Mido himself with the help of an in house supporting engineer. Others are the lighting engineer who has a light desk next to the sound desk in the hall. He has to follow the gig carefully as every song demands a different lighting effect which although part programmed is augmented  manually throughout the performance.
We arrive at 3.30 pm, with most of the equipment already on stage, just a few of the technicians making some final adjustments to the set-up. During this time the Mido sets the sound levels for the room, which includes playing Michael Jackson's Billie Jean at full volume! This ensures that all the levels are set correctly for the acoustics in the venue.
This is followed by a soundcheck performed by the techs at 4 pm followed by a full soundcheck by the band at 5pm. They run through parts of songs while the Sound Engineers adjust the levels for the band's specific sound. The sound desk is like a big graphic equalizer where bass, treble and everything in between can be adjusted along with the volumes from every part of the stage including the mics.
The VIP guests, i.e. those that had paid extra for a meet & greet, arrive at 6pm and they are treated to an hour of sound checking followed by a chat with members of the band. Guitarist Robert Levon Been got one lucky lad on stage to play along with him on bass. (I spoke to the guy in the Krobar on Oxford Rd later and he was literally shaking with excitement after jamming with his idol!)
From around 7.15pm the band retreat to their dressing room for some pre-gig food and downtime. At 8pm the support band Reastvrant jump on stage. It's normal for US bands to pick a local act to support them but on this occasion Restavrant have travelled from the States to back BRMC.
Mido, explains some of what it's like to manage such a big show:
Louder Than War: I know you work with Black Rebel Motor Cycle Club and Temples but I guess those bands aren't on tour all year round. Do you work with other bands as well?
Between them, those two keep me working pretty much full time.  There have been years I've had three bands on the go, although the overlaps become a problem as you have to find cover for one of the tours, which the bands don't like as it's you personally they hired and the changing of crew is very disrupting to them.
You manage to combine tour management with a second skill as a Sound Engineer. Please can you tell us how you got started, which came first and how?
I was a sound engineer, on only my second year on the road and the tour manager left mid-tour. As I had previously been a promoter and A&R at a label, I know the basics of tour managing so was asked to do double duty.  Almost every tour since I've covered both roles, although BRMC is probably the biggest band you can realistically do that with as both roles can be full time on big shows!  I have appointed a production manager to take some of the strain of organising logistics and crew, and our monitor engineer covers cabling and miking the stage so I have more time to cover admin and accounts.
It's as far from a 9-5 career as I could possibly imagine. You told me that the work of a Tour Manager was First to start, last to finish, just how tough is it and do you get time off?
Yes, usually first in, last out and no breaks in between!  Even on off days I'll be on the laptop at the hotel for almost the entire day or organising things for the band or crew, or quite often working on the next tour.  You're expected to be on call pretty much 24/7 even outside of touring dates.
What's the biggest challenge you face when putting a tour together?
Probably making the production, logistics and staffing fit the budget – usually end up with five or six draft budgets before a tour juggling figures and quotes until I get approval from band and management to proceed.  This tour for example we have a large bus, a truck and 12 band and crew with rental gear from four different companies and over a ton of equipment shipped from LA.  It's quite the jigsaw to put together financially.
How do you see Brexit affecting the movement of bands through Europe, especially smaller British bands?
Hard to say, but worst case it could prevent smaller bands entering Europe at all.  If free movement and customs agreements cease, they'd need a carnet just to take their own equipment to a show in Europe, which can cost hundreds of pounds.  I doubt it would go that far, but if they also needed visas or to pay for waivers that could also be crippling, and there's a risk taxes taken from their fees would also increase, in the same way it does for US bands in the UK.
How has having an Egyptian surname affected you over the past year or so?

(I) haven't noticed a huge difference, although since 9/11 I've been 'randomly' selected for screening or bag searches much more often than my colleagues.  I don't really mind it, having nothing to hide, and some of the bands find it amusing (in a dark kind of way).  I am nervous about how much further it will go in the short term

How long does a typical tour for someone as big as BRMC last?
Typically 6-8 weeks in any territory.  This Europe run is 7 weeks including the rehearsals, their US tour next week is two months long
How do you relieve the boredom between shows, are there particular games our routines you get in to?
I usually don't have time to get bored!  If I do find downtime it's Netflix or a good go on Civilization, anything quiet that will rest my ears and get me away from relentless questions and errands…
What's your favourite part of the job?
I feel very privileged to have been to around 40 countries for work.  Much of the time you don't get any time off to take it in, but getting to explore places like Japan and South East Asia or travelling coast to coast in America in a big old tour bus is definitely something most other jobs can't give you.
What's your 'thing'? I have uncovered secret addictions to extreme Frisbee and conspiracy theory during my interviews. Is there something that you are in to that would surprise the readers (steady!)
Bands get into weird things on tour, I think it's the cabin fever of the tour bus, but I've seen addictions to 'ancient aliens' videos on YouTube, building Lego sets, golfing trips (even on show days) and plenty more.  For me it's finding local art galleries, not just for the art, but it's impossible at times to get your own space on tour, so escaping for a couple of hours is like hitting reset on your brain.  Touring can be a strain on mental health, without those little releases I think you'd all completely lose it.  Sorry it's nothing weirder!
At a few minutes after 9pm BRMC hit the stage, and everything has indeed gone to plan! It's an amazing performance by band and crew which finishes a little after 11pm.
After the show we decamp to the local bar, Big Hands on Oxford Rd; the crew arrive with Mido after 12.30am for a few well-deserved beers! They have been breaking the stage down since the end of the show. With everything in the truck and ready to go, the tour bus is picking everyone up at 3am. That's one hell of a day.
Ancient Aliens/Wrong Creatures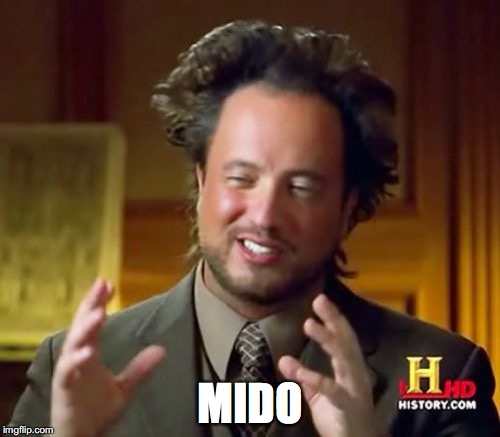 Big Chief Thanx to Louder Than War *